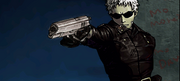 Haiji Mibu



Occupation

Bouncer

Age

Unknown

Height

5'8"

Weight

148 lbs

Sex

Male

Birth Date

December 11th (the year is unknown)

Origin

Unknown

Voice actor
Haiji Mibu (壬生灰児, Mibu Haiji?) is one of the characters in Daraku Tenshi.
Background
[
]
Once Carlos attemped to make human weapons in a project known as "Ash Children". All the ash children ended up fighting each other to the death, and Haiji was the only survivor. Years after Haiji escaped from Carlos, he resurfaced as a reckless bouncer.
Movelist
[
]
--to ba added--
Stage Stage
[
]
Quotes
[
]
--to be added--
Gallery
[
]
[

]